Home

/

AAA Soap Lily of the Valley 200g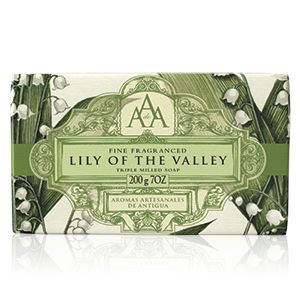 AAA Soap Lily of the Valley 200g
$12.95 inc GST
Description
Aromas Artesanales de Antigua (AAA) Floral Soap Bar offers an enticing selection of flowery fragrances. A luxurious triple milled soap to clean and delicately fragrance your skin. Choose from Lotus Flower, Rose Petal, Lavender, Lily of the Valley, Orange Blossom, Lilac Blossom, White Jasmine.
All of our soap bars are triple milled for the finest quality. Triple milling helps the fragrance to be evenly spread throughout the soap, meaning you can enjoy your favourite scent right until the very end of the bar. It also creates a harder soap, so that your bar won't fall apart easily and it will keep its shape much longer than most other soaps.
This luxury soap was voted the best bathroom soap recently by the Daily Mail, in an article about reducing plastic consumption.
200 g / 7 oz.
Made in Portugal.
Free from parabens and SLS.
None of our products are tested on animals.