Home

/

Nat Euro Diffuser Milk Cotton 100ml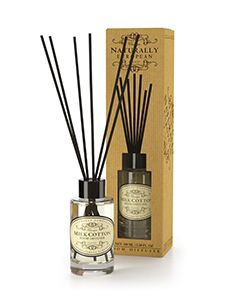 Nat Euro Diffuser Milk Cotton 100ml
$30.95 inc GST
Description
Place the reeds into the fragrance and let the sweet-smelling aroma delicately infuse the room. This stylish diffuser looks elegant and allows you to enjoy your favourite Naturally European scent all day long.
Each Naturally European Room Diffuser is made using a new ingredient called Augeo Clean Multi, and we're extremely proud to be using it as a base.
Unlike ingredients used in many other diffusers, Augeo is environmentally friendly. It's made from a renewable source and has a low carbon footprint.
Augeo has an extremely subtle aroma, so you'll only smell the delightful Naturally European fragrances that we add to the solution. It also has a low evapouration rate, so the scent will last and last!
Instructions for use:
1. Unscrew the black collar, remove the plastic stopper and then reattach the black screw top collar.
2. Place the reeds provided into the bottle and leave for a few minutes to allow the perfume to be absorbed.
3. Remove the reeds from the bottle and place the dry ends back into the oil to absorb more of the fragrance.
If you wish to increase the intensity of the aroma, repeat step 3 until you reach the desired effect. The rate of evaporation is dependent on air conditions and the frequency with which the reeds are turned.
Fragrance your home your way – Naturally European Room Diffusers are re-sealable for your convenience. Choose from the following fragrances: Freesia & Pear, Neroli & Tangerine, Milk Cotton, Ginger & Lime, Rose Petal, Verbena and Lavender.
100 ml / 3.38 fl oz
Made in England
None of our products are tested on animals